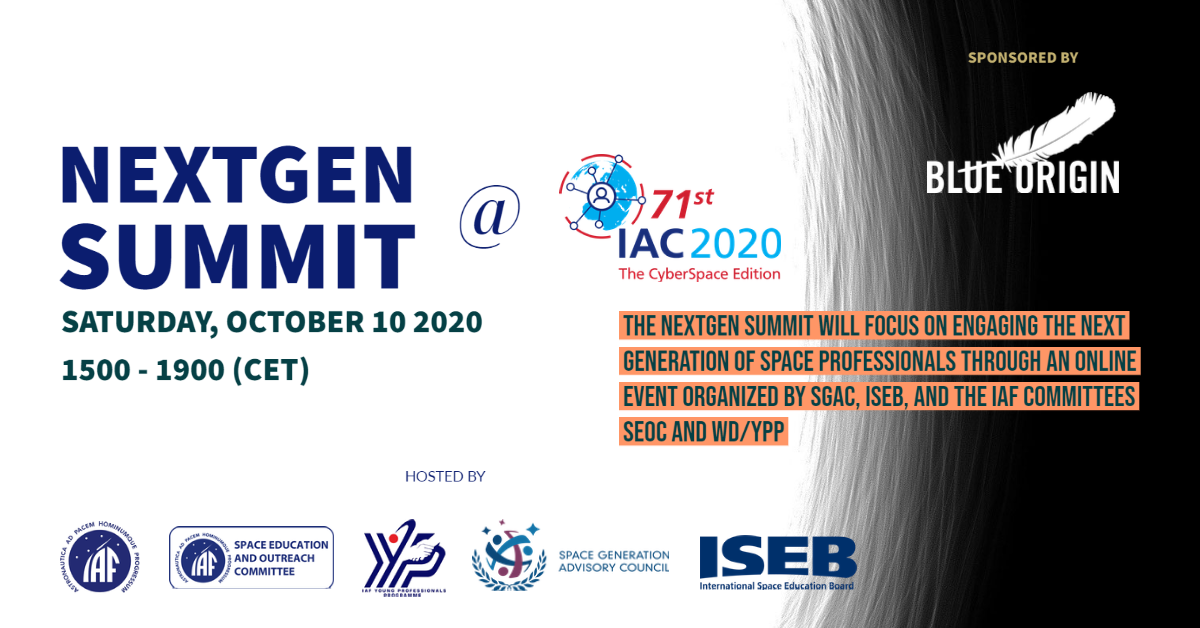 The 71st International Astronautical Congress 2020
12 – 14 October 2020 – The CyberSpace Edition
Since its first edition in 1950, the International Astronautical Congress (IAC) has been THE place for all space people to come together and discuss about the latest developments in space. In these challenging times, when physical meetings are near-impossible, the Federation, more than ever, is determined to play its unifying role for the space community. And this is why we have decided to organize the 71st International Astronautical Congress, IAC 2020, as a Cyberspace Edition and to offer it without registration fee, free of charge. New communities and stakeholders that would normally not have the means to physically travel to an IAC will be offered the unique opportunity to be part of this world's premier space gathering.
In this spirit, the theme of the IAC 2020 – The CyberSpace Edition is "IAF Connecting @ll Space People": virtually and for free, we will embrace resilience by being connected together.
The IAC 2020 – The CyberSpace Edition encompasses most of the traditional IAC features compatible with a virtual format, including Plenaries, Highlight Lectures, the IAF Global Networking Forum Programme, Technical Programme including Special Sessions, Press Conferences and Networking Sessions.
See further information about IAC 2020 here:
https://iac2020.vfairs.com/en/#home
ISEB Activities at IAC 2020
NextGen Summit – 10 October 2020
For this year's IAC, the Space Generation Advisory Council (SGAC), the International Space Education Board (ISEB), and the IAF Space Education and Outreach (SEOC), and Workforce Development / Young Professionals Programme (WD-YPP) Committees joined forces to bring to you a great pre-IAC session dedicated to the Next Generation of space leaders!
Part of the IAC 2020 – Cyberspace Edition's programme, and sponsored by Blue Origin, the NextGen Summit will assemble a mix of fun and engaging online talks, activities and cosmic content!
Meet International Industry leaders, discover Blue Origin's plans to go forward to the moon, and get to know the organisations that help students and young professionals thrive in the space sector.
Join our Live Stream on Saturday 10 October at 9:00 AM ET | 1:00 PM UTC | 3:00 PM CET to celebrate the NextGen and the end of World Space Week 2020!